Ecstasky Air
Ecstasky Airlines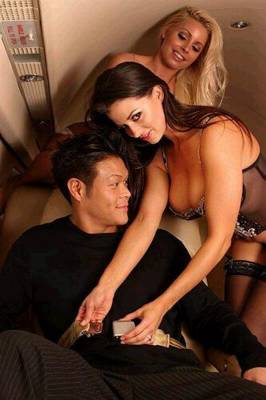 Ecstasky is the world's first airline offering exotic entertainment by beautiful air hostesses, who pamper you so you can have the flight of your life. Ecstasky is an extraordinary airline offering a unique and decadent flying experience.
We offer several amenities to make your flight incredible, including exotic entertainment by our beautiful Ecstasky Entertainers.
Our goal is to pamper you and indulge your fantasy. We invite you to come fly our sexy skies and have the flight of your life!
The first and only airline where you'll prefer
the view inside the cabin to the one outside.
Whether bringing you champagne, caviar, or other fine delicacies, providing a soothing neck and shoulder massage, or treating you to a sexy exotic show, our Ecstasky Entertainers will give you a unique flight experience to remember. Every meal served aboard our airline is prepared exquisitely by world-renowned Executive Chef Jason Harley.
Climb aboard and prepare to be pampered by a dedicated team of profesionals attired in provocative yet tasteful lingerie.
Avoid the stress and hassle of commercial airlines while enjoying the amazing benefits only Ecstasky can offer, whether you're headed to Las Vegas for a weekend or Barbados for a week. No airport traffic, no lines, no connecting flights. Come along with us and change forever the way you feel about air travel.
Ecstasky operates with complete discretion and anonymity. We respect your privacy, use discreet billing, and keep our client lists private. Flight Routes Los Angeles - New York Chicago - Las Vegas Seattle - Las Vegas Reno/Tahoe - Las Vegas Aspen - Las Vegas Houston - Las Vegas Dallas - Las Vegas San Francisco - Las Vegas Miami - Las Vegas New York - Las Vegas Los Angeles - Las Vegas some media have mistakenly associated us with Hooter's Airline but we are not affiliated with hooters, the restaurant, nor hooters air or hooter's inc in any way: some of the services they offer are below but not available here, our services are far superior.: